It's a new year and a good time to kick off with CRS cut-offs. And what a way to start off 2019!
CIC has set the stage with a bang for PR hopefuls applying through Express Entry. January 2019 saw the lowest CRS cut-off we have seen from all of the last quarter of 2018! What's more, there have been three draws, the last one just before the time of writing of this article.
But there's a lot more than meets the eye.
In a nutshell: There is a trend of more applicants being sent the ITA. Maximizing your CRS score is more important than ever, with cut-offs set to rise.
Express Entry Recap
Let's refresh ourselves on the process quickly. The Comprehensive Ranking System (CRS) is the points system used for determining your eligibility for permanent residence in Canada. Immigration, Refugees and Citizenship Canada (better known as IRCC or CIC) uses the CRS cut-off to find the most suitable candidates to whom it will send the Invitation To Apply (ITA).
CRS condenses your education, professional experience, age, familial status and more into one number – on a scale of 0-1200. The higher your score is, the greater the likelihood of you being sent the ITA.
To know more about CRS visit our page on Express Entry. We have helped thousands of people come to Canada, and bring their families too. And the importance of the CRS score simply cannot be emphasized enough. Every point counts, as you will discover with our trend analysis.
CRS Cut-Off Trends for Q4 2018
Before we get too excited about how 2019 has started off, let's take a look back at the last quarter of 2018.
Here are some useful CRS stats from October to December 2018:
Total CRS rounds: 7
Minimum CRS to get ITA: 439
Number of ITA per round: 3900
It was fairly consistent towards the close of 2018. Two trends we can identify:
A constant number of ITAs

– 3900 at every round

High CRS cut-off

– Avg. 443.5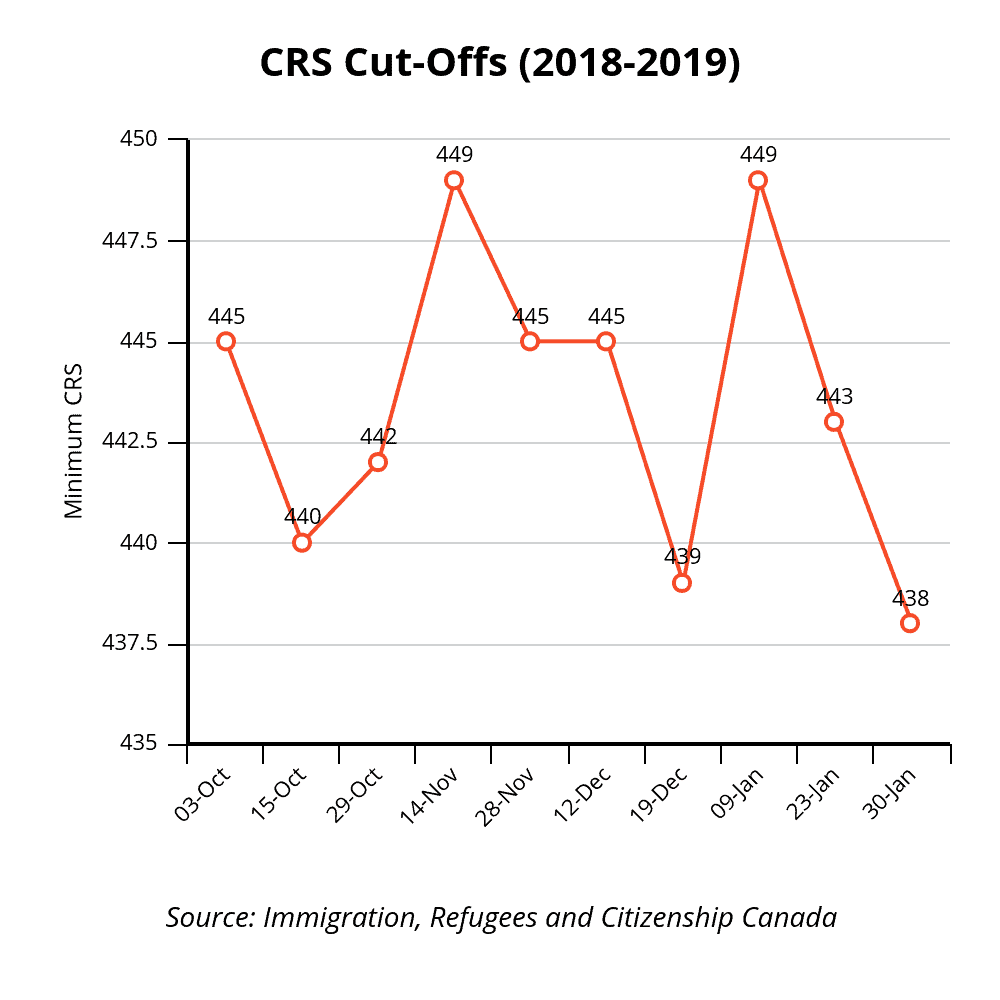 How January 2019 CRS Cut-Offs Are Different from 2018
For January 2019, CIC has broken away from its past trends. First, there have been three ITA draws already.
Second, the final draw, on January 30, 2019, only invited 3350 applicants.
Third, while the average CRS cut-off in 2019 has been 443.3, that's only because of the last round of ITAs. Actually, the cut-off average has gone up to 446, and we think it's going to go higher.
What Could This Mean for CRS Cut-offs in February
So what does this mean for you? We are breaking down our expectations for the coming months.
Bigger Express Entry Backlog

– With fewer applicants being sent ITAs at every round, the pool of applicants is surely going to grow.

Higher CRS Cut-offs

– A bigger pool can mean more people with higher scores too; therefore higher CRS cut-offs.
Why has CIC done this?
There are many reasons CIC could have done this. It could be to reduce the total number of applicants coming into the country each year. Maybe they have seen greater demand for very skilled applicants. Or it could mean that CIC has reached the limit of applications it can process.
We have heard from sources that PR processing times have gone up to 6 months!
Maximize Your CRS Score With The Help Of An Immigration Lawyer
So 2019 starts off with mixed news. And it is more important than ever to maximize your CRS score. We'll repeat it: every point counts! From your IELTS scores to how you show your professional experience will make a difference to your CRS score.
At the Immigration Law Office of Ronen Kurzfeld, we help clients with their PR applications – from beginning to end. We will help you make sure that you get the maximum CRS score you can. Then we will guide you through what paperwork you need, and all other PR aspects.
Call the Ronen Kurzfeld, today, for affordable and excellent services.